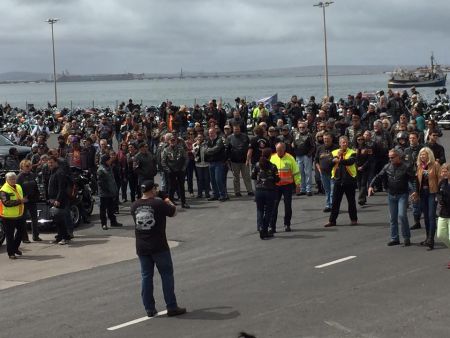 The West Coast Rally is an annual charity driven rally hosted and organised by the H.O.G.® Tyger Valley Chapter and the Harley-Davidson Tyger Valley dealership. Attracting attendees from across South Africa and overseas, it is the biggest
Harley-only rally in Africa! Running for a total of 8 years already, this year's venue was the Protea Hotel in Saldanha Bay, allowing for fantastic outrides, world-class views and accommodation. Roughly 660 rally-goers flooded the towns of Saldanha, Langebaan and Club Mykonos over the weekend of 20th – 23rd October 2016 to come together and enjoy the comradery of
riding, raising funds for charity and having a blast!

While the rally was definitely heating up on the Thursday evening, it was in full swing by Friday morning as more bikes rolled up! Being "Free Ride Friday", attendees were free to do their own outrides or participate in the poker run. Waiting back at the hotel was a surprise for everyone involved: a Mercedes 190! Rally goers could then bid to take all their frustrations out on the car with a 10 pound hammer and all proceeds were donated to Die Weskus Skool (our charity of choice for 2016). With the day behind us, we had the evening to look forward to as the Muisbosskerm cooked up a seafood storm! On the menu was paella, chips, fish, salad, chops and crayfish. Rally-goers gorged themselves to their hearts content before dancing the night away to rocking live music!

Saturday dawned with some showers but that did not deter the bikers as they headed down to the harbour for the thunder parade. With the sun peeping out soon after, the ride destination (Die Laaiplek Hotel) pumped with long lost friends catching up and chapters and clubs joining together and having a great time. For those that wanted to enter their bikes into the concourse, doors opened at 3pm back at the hotel. Saturday evening was an exciting one indeed as the winner of the trip
for 2 to Sturgis 2017 was announced and many other raffle prizes were given out as well! These included vouchers, over 100 bottles of wine, bottles of Jack Daniels, CocaCola hampers, 2 x bike parking stands, a wall bed and much more! Congrats to Christian Knickel on winning the trip!

A heartfelt thank-you to everyone that gave of their time and effort to organising the rally as well as to everyone that joined in the fun and supported! We will be handing over a cheque to the Weskus Skool soon so keep an eye on the Tyger Valley Facebook page and website!